The overall idea at Omnivox is to keep a flexible approach and make possible for you to work in any way you feel comfortable with. You can choose between analogue and digital recording. Bring whatever equipment you need from your own studio or use our gear. (We are Mac-based)
On the technical side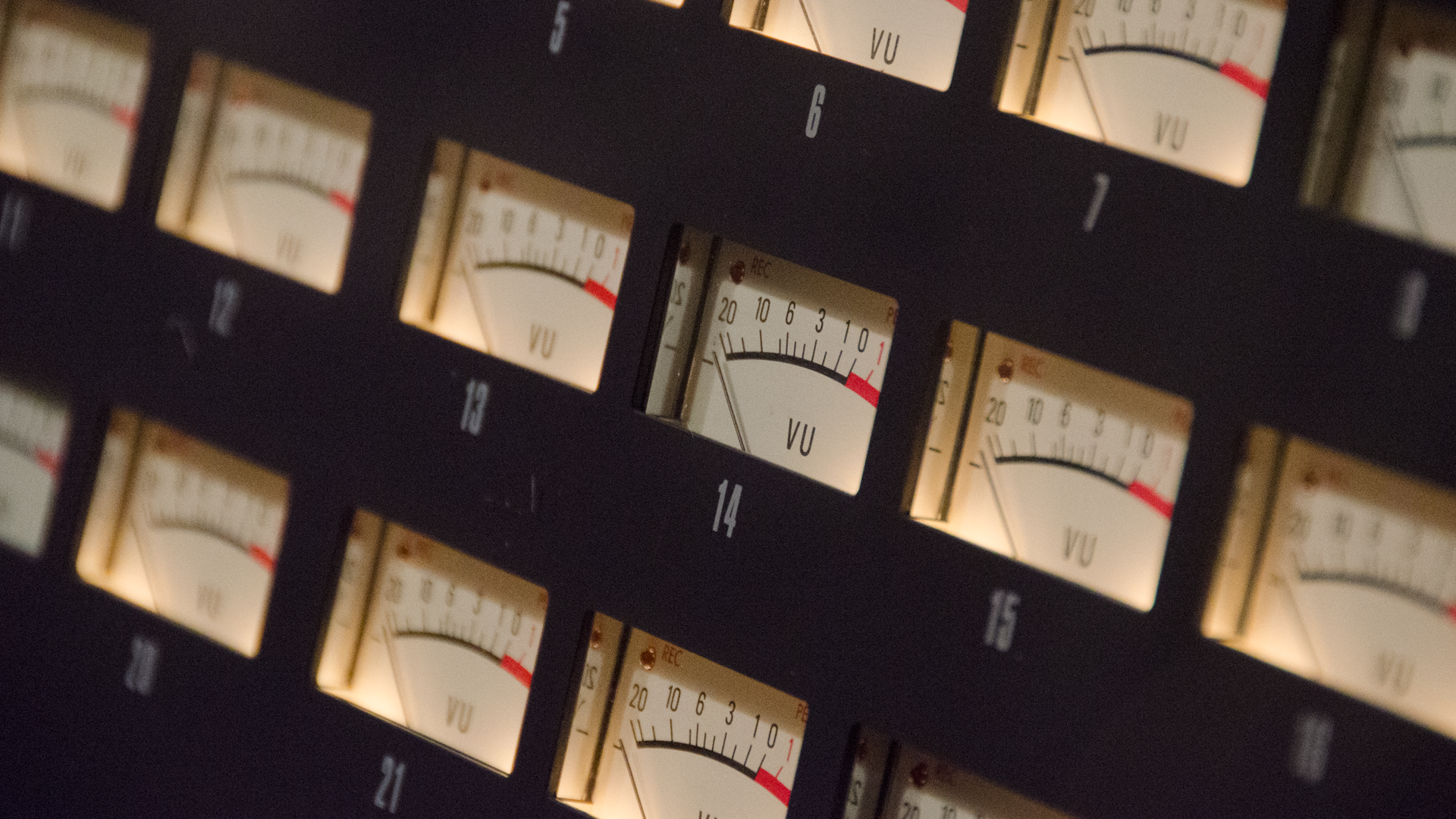 The studios Otari MX80 was owned by great producer Douglas Carr and used for recordings with artists such as Meja, Ace of Base, Leila K and Army of Lovers.
What's different?
Ana­log or digital?
Ana­log record­ing dif­fers a lot from dig­i­tal, both in pro­duc­tion and sound qual­i­ty. How hard you hit the tape, the for­mu­la and record­ing speed high­ly affect the final result. So why go through all the extra work and also have the lim­i­ta­tions in tracks? The sim­ple answer is: because it sounds so much bet­ter! But there is more.

Dif­fer­ences
The ana­log record­ing process dif­fers great­ly from the dig­i­tal one. Ana­log record­ing is a bit like per­form­ing with­out a safe­ty net. In the dig­i­tal domain it's easy to edit any­thing and to undo deci­sions. In ana­log it's quite the oppo­site. Which makes every­body, musi­cians includ­ed, more alert. When record­ing ana­log it is more impor­tant mak­ing a real­ly great take, sim­ply because it's not so easy to make changes afterwards.
The MX-80 at Omnivox is a 24-track. If you decide to work pure­ly in ana­log, thats the num­ber of chan­nels you have got. (There are meth­ods of cheat­ing – more lat­er). Prob­a­bly rew­er than you are used to, but many clas­sic albums have been record­ed with less. Few­er chan­nels means you have to take more imme­di­ate deci­sions. con­sid­er track-space, and think about whether you real­ly have room for 12 mics on the drums alone.
Prepa­ra­tions
Prepa­ra­tions for ana­log record­ing are more exten­sive than dig­i­tal record­ing. The tape machine is demag­ne­tized and cleaned sev­er­al times dur­ing a day of record­ing, 2″ tapes are demag­ne­tized and pos­si­bly baked.
If you would like to record by ana­log and then dig­i­tize, which is quite com­mon here, you can bor­row stu­dio tapes for free and have them dig­i­tized, after which stu­dio tapes are erased and then reused in oth­er projects.
Impor­tant!
If you want to save your tape-record­ings in phys­i­cal form you must bring your own tapes. If you are plan­ning to bring your own tapes, always con­tact us well in advance as the tape machine might need to be cal­i­brat­ed accord­ing your tape type.

The 2″ machine at Omnivox is set up for recording with 499-tapes.
The 1/4″ machine is set up for 900-tapes.
Best of two worlds
We often like to track live to tape, dig­i­tize and con­tin­ue work­ing in the dig­i­tal domain. This is not strict­ly puri­tan but you get the best out of the ana­log domain and the pos­si­bil­i­ties of the digital.
More gear
The con­trol room offers the following:
Mix­ing con­sole: AMEK TAC Mag­num, 26 chan­nels. Beau­ti­ful ana­log mix­er from 1991 in great shape.
Mon­i­tors: Urei 813 + Snake Speakers
Tape machines: Otari MX80, 2″, 24 ch, Stud­er A 807, 1/4″
Com­put­er: MacPro 2013, 48Gb RAM, 8‑core proces­sor, 2 TB HD.
DAW: Log­icPro X
Out­board: UAD LA-610, Tube-Tech LCA-2B, Stock­tron­ics RX4000 plate reverb, Roland RE-501, Even­tide H910 etc. Out­board is eas­i­ly accessed via the mix­ing con­soles Ban­tam patchbay.
Micro­phones: Ehrlund hand­built tube micro­phones, Ehrlund Ehr, ‑D och ‑E micro­phones, + Bey­er­dy­nam­ics and GA rib­bon mics, Shure SM7, SM 57s, Sennheis­er, Rode etc.
Lis­ten­ing: Hear­back sys­tem with 5 per­son­al mixers.
Loaning gear is included in the price
The use of mics and out­board equpi­ment, instru­ments and amps is includ­ed in the stu­dio rent. You can also bring your own gad­gets that you are famil­iar with. Please call and dis­cuss pri­or to your stay at the stu­dio. Phone +46 702 069 918 or email.