Vinyl de-luxe från Siena Root
It is rare for a record to be 100% analogue recorded, mixed and half-speed mastered these days. But that's exactly what has taken place with the latest release from Siena Root!
Sam Riffer a.k.a. Samir Eriksson, bass player and founding member, Siena Root
Firm­ly plant­ed in the ear­ly '70s hard rock with influ­ences from Sab­bath, Pur­ple and Zep­pelin Siena Root goes fur­ther than most in explor­ing what it is that makes the music sound like it did around the mag­i­cal years of 1970 to 1974. No stones are left unturned and even the tape for­mu­la matters.
– The drums sound­ed bet­ter in the first half of the 70s. Then some­thing hap­pened, says Samir Eriks­son, found­ing mem­ber, song­writer and bassist in the band.
– The gui­tars sound­ed dif­fer­ent. Every­thing sound­ed dif­fer­ent. And when I start­ed to research why I real­ized that it was not just about how dif­fer­ent instru­ments were played but it had to do with dif­fer­ent sound ideals, which in turn were linked to what you could do in a stu­dio at that time. The sound was very much about how the music was recorded.
– We start­ed record­ing on tape our­selves, because a lot of the music we liked was record­ed on tape. Ini­tial­ly with sim­ple equip­ment but as time moved on with bet­ter equipment.
– You would nev­er guess what brand of con­sole that was used for our first album, Samir says with a smile.
An Octo­ber evening in Häger­sten out­side of Stock­holm. The mix of the new album, The Secret of Our Time, is at the final stages. Samir and Love go through the steps. Tape pieces on the mix­er mark the set­tings. The Otari MX-80 is start­ed at the same time as the Stud­er. Faders are pushed up and down and ana­logue effects are rout­ed in and out of the sound­scape. After three attempts, a first approved mix sits on the mas­ter tape which is rewound and lis­tened to. After some dis­cus­sion a few adjust­ments are decid­ed upon. After clean­ing the tape-heads with iso­propanol the drill is repeat­ed and now every move is in the right place!
Tour­ing
Siena Root has many fans around the world. Which has led to a fair­ly exten­sive life on the roads, in Europe in par­tic­u­lar. I ask about spe­cial places Siena Root played on and Samir men­tions Duna­jam in Sardinia.
– The fes­ti­val is always in ear­ly June, before mid­sum­mer. It's quite a spe­cial place, says Samir. The orga­niz­er keeps the fes­ti­val down in size and you have to have a per­son­al invi­ta­tion to go there. The locals are pos­i­tive. No tick­et checks, no fenced areas. Much ston­er-rock, doom, psy­che­delia. Duna­jam is pret­ty homo­ge­neous music-wise and man­i­fests itself in two con­certs a day on dif­fer­ent parts of the beau­ti­ful island.
– The con­cert venue moves all the time, some­times it's on the beach, some­times in the moun­tains. We played there in 2010 and 2015.
– Then there's the Burg Herzberg fes­ti­val, a big hip­pie fes­ti­val in true spir­it of Wood­stock. There are also many small­er fes­ti­vals in the same vein in Germany.
– We have lots of fans out there. Over time, we have had very good rela­tion­ships with many of them. Almost like fam­i­ly. It has hap­pened that fans have come to vis­it­ed us in Stockholm.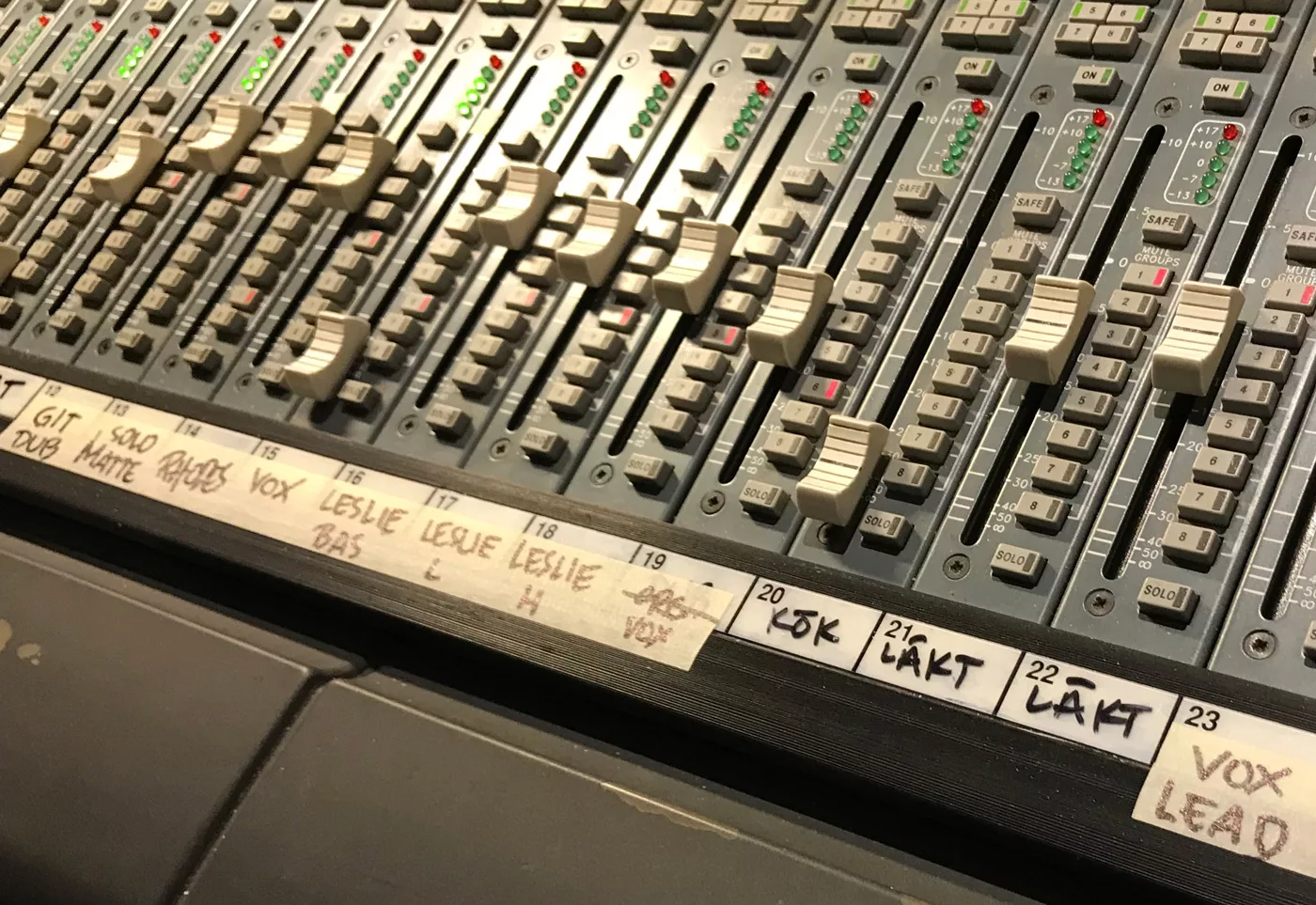 The mixer during mixing The Secret of Our Time. Note the faders labeled "kök" (meaning kitchen) and "laktare", (stands), which are common mic placements in the Omnivox studio.
Your chance to win a signed limited
gatefold vinyl copy
of The Secret of Our Time!
Here's your chance of winning a piece of analogue delight! We are giving away one (1) fully signed copy of Siena Root's new half-speed engraved vinyl record, The Secret of Our Time, on vinyl! The first 1000 copies of the album will be gatefold and this is one of them. A true collectors gem!
There are two things we want you to do in order to participate in the lottery:
1. subscribe to the Omnivox Newsletter (below). Be sure to write "SR" as a message and don't forget to write your full address, in case you win!
2. share this post on Facebook

Winners will be drawn on January 1, 2020 and published on the Omnivox Facebook page.
Subscribe!
Sure, I want to subscribe to news and offerings from the Omnivox Studio.
Please write "SR" in the message field and don't forget your full address!
"We said we'd talk next week and maybe jam a bit."
– The year was 1996 and I met Love at a friend's party, says Samir. I was 19, Love was probably 17. I had just returned from a year in the US and had decided that music was what I wanted to dedicate my life to. Love probably had something similar in mind and told me he was playing drums and wanted to start a band.
– We did­n't know then that this was the begin­ning of an inten­sive col­lab­o­ra­tion that has last­ed for more than 23 years so far!
– We said we would talk lat­er. In most cas­es, this is prob­a­bly a fair­ly com­mon con­ver­sa­tion that can occur at a par­ty but this was actu­al­ly done! We met and jammed with a gui­tarist named Fredrik. In the begin­ning we played a few Kiss and Black Sab­bath songs and also some Nir­vana, says Samir.
– Pret­ty soon we became seri­ous and start­ed rehears­ing sev­er­al days a week and also try to get gigs. We could agree on the Sab­bath sound and we start­ed to write our own music pret­ty ear­ly on.
– We picked up a guy named Mar­tin Lin­der on gui­tar, he even­tu­al­ly replaced Fredrik and the we became even more seri­ous. Mar­tin is a luthi­er today and still helps the band on and off with every­thing from set­ting up gui­tars to photography.
Siena Root
– Around 1998 we took the name Siena Root and it was also around then that the Ham­mond organ became a big part of our sound. We start­ed col­lab­o­rat­ing with dif­fer­ent organ­ists. Mar­tin left the band around 2001 and was replaced by KG West, the gui­tarist who par­tic­i­pates in Siena Root's first four stu­dio albums.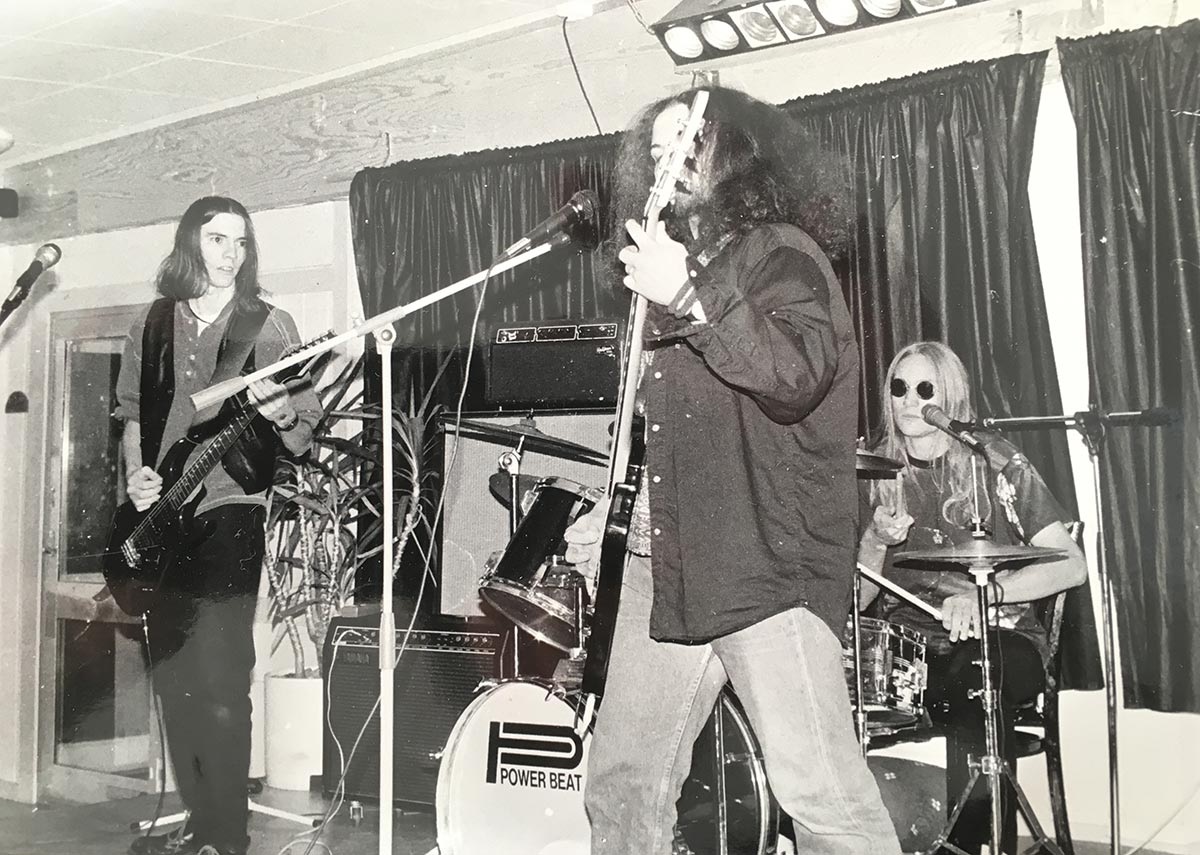 First gig with Samir and Love in the same band, Skarpnäcks Ungdomsgård, Stockholm, autumn 1996.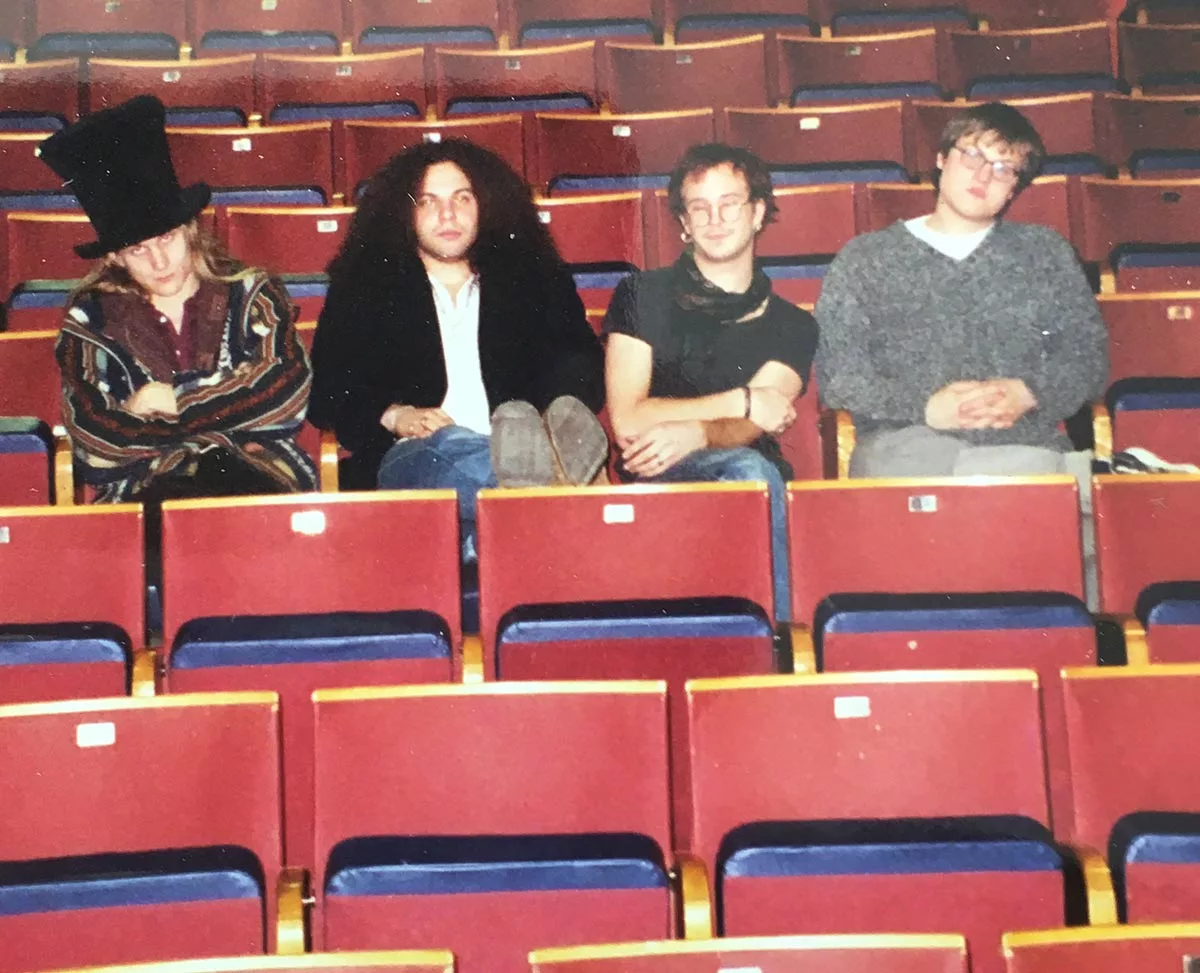 Fotosession at Tellusbiografen in Midsommarkransen, Stockholm 1999. Samir, Love, Martin och Danne (organ)
Gigging at Folkkulturcentrum which at the time was located on Skeppsholmen. Spring ‑00.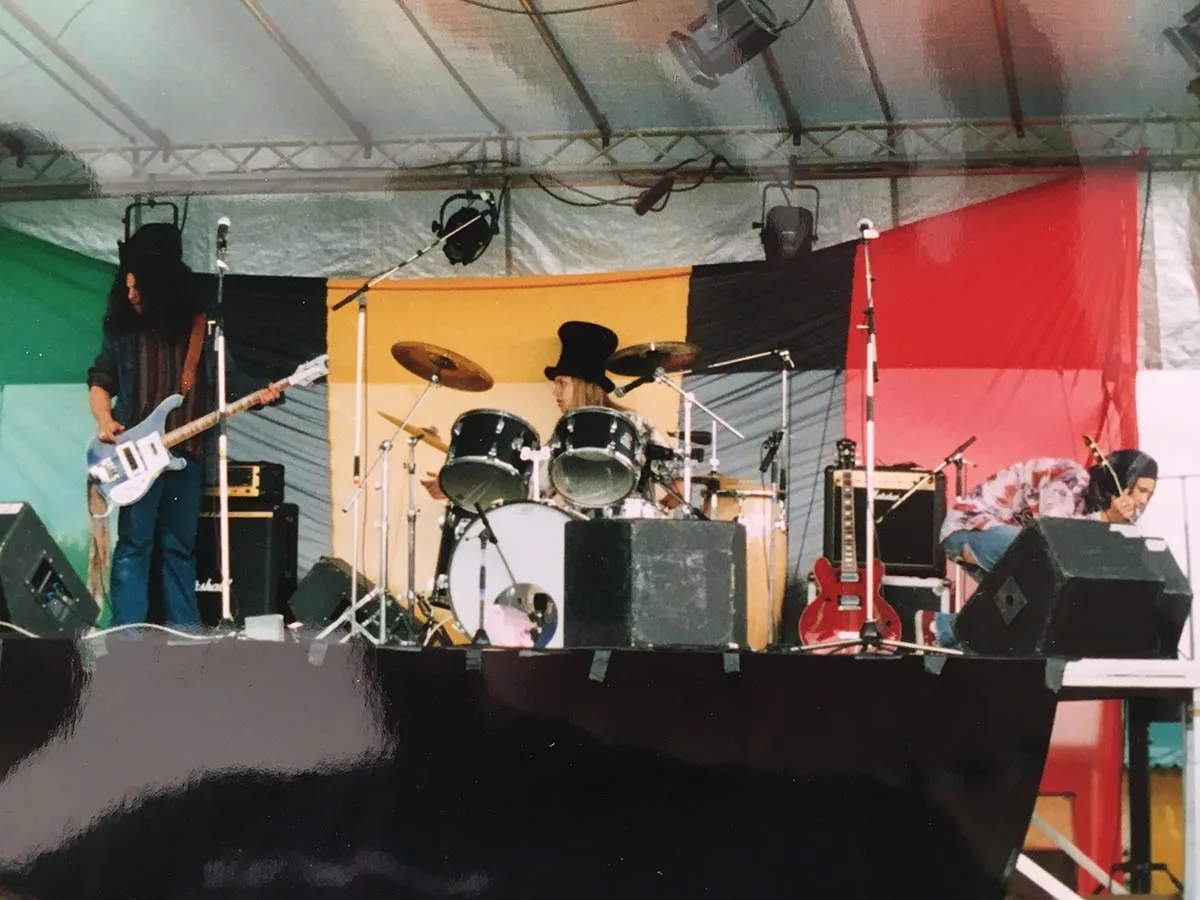 First outdoor festival, Järvafältet Stockholm, summer of ‑97
MB Arena in Berlin 2017. Photo by Clemens Mitscher
– As we worked on the songs that gave us our first record con­tract, we brought in a guy named Oskar Lund­ström on song and organ. Kg knew him and that way he found him­self in the band. In 2003 we record­ed the debut "A New Day Dawn­ing" and did three Euro­pean tours together.
Change of crew
– Oskar was no longer hap­py liv­ing on the roads and was replaced by Sanya, says Samir. Togeth­er with Sanya we record­ed a sin­gle and then our sec­ond album "Kalei­do­scope". We toured quite exten­sive­ly at this time and between 2005 and 2007. I think we did about ten Euro­pean tours. Sanya was then replaced by Sartez, who we had worked with briefly around 2000–2001 and we did the album "Far from the Sun" together.
– After that album we could­n't agree on the musi­cal con­tent of the upcom­ing album "Dif­fer­ent Real­i­ties" and Sartez left and we chose to con­tin­ue as a trio with guest musi­cians, the con­cept of a core that drove the band and many dif­fer­ent guests on stage dur­ing live per­for­mances was inspi­ra­tional and has been a work­ing method that we have come back to from time to time over the years.
– In that way we record­ed our live album "Root Jam" which was released in 2012. After that, Kg left the band and we start­ed work­ing more with Erik Peters­son and Jonas Åhlén who had joined us on stage on many occasions.
– Around 2013 we also made our first appear­ances togeth­er with Mat­te Gus­tavs­son and it was this set­up that did the album "Pio­neers" in 2014. Almost the same guys went to the leg­endary Silence stu­dio in Värm­land in 2016 to record "A Dream of Last­ing Peace ". Jonas had left and we had recent­ly start­ed work­ing togeth­er with Samuel Björö who sings on that album. The album was released in 2017 and on that release tour we got the hon­or of join­ing Deep Pur­ple on a cou­ple of gigs. Final­ly are­na rock!
How does a song come to life?
– Most things devel­op by jam­ming togeth­er, often based on a riff or a small hook that some­one brought with them to the rope. We devel­op and try out the ideas until the song is born. It usu­al­ly hap­pens that the music comes first and the lyrics are writ­ten after­wards. But it hap­pens that we start with some chords and a melody some­one has come up with at home, by the piano or with an acoustic guitar.
What music have you grown up with yourself?
– I'm not from any dis­tin­guished music fam­i­ly. The only one in the fam­i­ly who was inter­est­ed in music was my grand­fa­ther, says Samir.
– Grand­pa was a play­er and folk musi­cian, so I hope I picked up some­thing from con­stant­ly hear­ing the violin.
– As a 7‑year-old I dis­cov­ered the band Kiss, Heav­en's on fire was a big hit in 1984 and there was always some­one in the cir­cle of friends who had man­aged to tape the video to it so you could sit and watch in secret, hehe! They soon learned from the old­er chil­dren that this was crap and that they would lis­ten to "old Kiss", with makeup.
– So I forced my par­ents to Åhléns where you could buy LPs for SEK 45. The week­ly mon­ey always spent on the Kiss albums with the coolest cov­ers. First off, "Destroy­er" was close­ly fol­lowed by "Love Gun" etc. But as a child I was not only attract­ed by the music, the cov­ers were equal­ly important.
– In my ear­ly teens, I had a great inter­est in reg­gae and rasta­fari and I lis­tened to every­thing I came across from Jamaica. At the age of fif­teen, a friend played a Black Sab­bath album for me and I was com­plete­ly tak­en. Was it pos­si­ble to play like that??
– I had just start­ed play­ing some bass and through Sab­bath I dis­cov­ered Led Zep­pelin and Deep Pur­ple. To me Zep­pelin, Sab­bath and Pur­ple was "the big three" and it's fair to say that these three formed the basis of my musi­cal jour­ney and fur­ther listening.
Analogue recording
Siena Root does­n't just record ana­logue. They also mix and mas­ter ana­logue. The whole chain is 100% ana­log and of what is final­ly released on vinyl, noth­ing has ever been digitzed.
– We usu­al­ly bring the mas­ter tape with us to a com­pa­ny in Berlin that still has equip­ment for ana­logue mas­ter­ing and engraving.
Half-Speed ​​Master
With the new record they decid­ed to take it a step further.
– I've always dreamt of mak­ing a half-speed mas­ter, says Samir. To do that, I con­tact­ed sev­er­al dif­fer­ent mas­ter­ing stu­dios. We con­tact­ed Abbey Road but it turned out that even they could­n't make half-speed mas­ter­ing from 1/4″ tapes. Even­tu­al­ly we found The Exchange stu­dio in London.
– All of the set­tings you nor­mal­ly make when mas­ter­ing will be dif­fer­ent if you work at half the speed, says Samir. EQ and com­pres­sion are com­plete­ly dif­fer­ent and it takes a lot of expe­ri­ence to be able to set every­thing so that the end result is real­ly right.
You have just returned from Lon­don, what have you done there?
– As I said, it became impor­tant for us to pro­duce records accord­ing to the craft that exist­ed before the com­put­ers entered the indus­try. And in the past, you did not mas­ter dig­i­tal­ly. You engraved the vinyl from the tapes that you had mixed down in the record­ing stu­dio. So that's the way we do it!
– This time we want­ed to take it a step fur­ther. Pre­vi­ous­ly, you could engrave at half speed if you want­ed to make the records sound bet­ter. The advan­tage is that the engrav­ing becomes "more accu­rate" with, among oth­er things, clean­er tre­ble and more good-sound­ing inner tracks as a result.
Is there a dif­fer­ence between dif­fer­ent vinyl press­es, eg full and half speed?
– It's a pret­ty big dif­fer­ence, if you ask me! Buy a half-speed and com­pare for your­self, laughs Samir. Gen­er­al­ly, the ear­li­er press­es sound bet­ter, too, pro­vid­ed you find them in good con­di­tion. Wear is the Achilles heel of ana­log tech­nol­o­gy. But as I described before, the discs were engraved from tape. First press­es are from the orig­i­nal tapes and lat­er press­es from a copy, hence worse sound­ing. Much lat­er press­es may be from a copy of a copy or engraved from a dig­i­tal copy. Worn press matri­ces can also be a fac­tor, anoth­er rea­son to look for an ear­ly pressing.
You are one of the few bands that takes pride in work­ing 100% by anal­o­gy, through­out the chain from record­ing to vinyl press. Tell us a lit­tle about why you chose to work that way.
– That start­ed ear­ly on, says Samir. We record­ed some demos dig­i­tal­ly around 1997, before we even "become" Siena Root. Grim­ly dis­ap­point­ed that it did not sound like our favourite LPs the idea of ​​record­ing in the same way they used to was born, ie at the time when the favourite LPs were recorded.
– So the next demo was made to tape, but that did­n't help either. Any nor­mal per­son would have let the idea go then and there, Samir laughs.
– But I got curi­ous and want­ed to learn how to pro­duce records like in the past, all the way from mick place­ment to vinyl engrav­ing. Both the tech­ni­cal equip­ment and the craftsmanship.
– Besides music, I am a cin­e­ma engi­neer / tech­ni­cian with ana­logue film as my main inter­est. I was pret­ty used to have machines from the 50s and 60s by my side and much of the knowl­edge could be trans­ferred in between film and tape. There was more mon­ey in the movie busi­ness and much of the way a music stu­dio was set up was inher­it­ed from the cin­e­ma world.
What would you say is the the main rea­sons for record­ing ana­logue instead of to a DAW?
– It's for real! It requires crafts­man­ship and it's a a joy­ful process in itself where deci­sions are made con­tin­u­ous­ly dur­ing the project instead of all deci­sions being post­poned and you sit for sev­er­al weeks in front of a com­put­er screen. It's physics, mechan­ics and mag­net­ism instead of soft­ware – choose your­self which seems the most appeal­ing! And it is in most cas­es with ana­logue tech­nol­o­gy your favourite albums have been made.
What are you currently listening to?
–I don't lis­ten to rock music a lot nowa­days, most­ly folk music from all over the world. I can rec­om­mend Bal­la­di music from Egypt or Gnawa from North Africa. I also lis­ten a lot to Blue­grass and Amer­i­cana, but not country.
Tell us a lit­tle about the record­ing of the new record, "The Secret of Our Time"
– We were very pleased with the record­ings we did at Silence for the last record. The con­cept of going to a stu­dio to iso­late your­self from the out­side world for a few days and record the basic tracks and then "come home" to the Root Rock Stu­dio and add a few instru­ments and do the mix­ing. We want­ed to work in the same way but try anoth­er stu­dio this time.
– I came in con­tact with Ola at Omnivox and we hit it off from the start.
– At Omnivox there is a fan­tas­tic, large record­ing room. I real­ized at once that things were going to sound great. In small stu­dios you have to either damp­en every­thing or work with some­times less pleas­ant reflec­tions as a result.
– It was a great stay at Omnivox, being able to stay there, with access to the kitchen and it's out in the coun­try­side, so it's just to step out of the door to take a break in a nat­ur­al envi­ron­ment. The inspi­ra­tion was kept alive for us all in the band.
– I'm look­ing for­ward to do more record­ing at Omnivox in the future!